Highlights
● "Absolutely incredible" John Kennedy, Radio X 'X-Posure'
● "Right up my street" Steve Lamacq, BBC 6 Music
● "A very promising debut" 4 stars, Q Magazine
● "LIINES combine the sounds of British post-punk and Olympia riot grrrl in their infectious, riff-heavy songs." Louder
Press
2019
● SINGLE REVIEW, Louder Than War, May 2019 "Primal. Urgent. Relentless. LIINES time is now. I wish this band all the success they deserve."
● SINGLE REVIEW, Music is My Radar, May 2019 "More belting vocals, frenetic beats, gripping basslines and crushing riffs are concealed together to make a sound that is LIINES all over."
● RADIO PLAY: On and On, Shell Zenner's Amazing Radio show, 23 May 2019
● SINGLE REVIEW, VISIONS Magazin (Germany), May 2019 "On And On is the name of the new single, which builds on a hypnotic, forward-looking rhythmic foundation, the groovy-scratched vocals of guitarist and singer Zoe McVeigh."
● TRACKS OF THE WEEK, God is in the TV Zine., May 2019 "Further proof of why everyone is falling in love with LIINES. Post-punk perfection; understated, Joy Division meets Siouxsie and the Banshees. From the superb rostrum at Reckless, Yes."
● TRACK OF THE DAY, Even the Stars, May 2019 "It keeps the same targeted anger and rawness as the album, but feels like they're moving their sound forward with their revised line-up and the confidence that comes with the big shows they've just done supporting Sleaford Mods."
● RADIO PLAY: On and On was John Kennedy's 'Hot One' on Radio X X-Posure, 20 May 2019
● RADIO PLAY: On and On, BBC Introducing Manchester, 18 May 2019
● INTERVIEW, Notts Night Out, May 2019 "Manchester post-punk, three piece band LIINES have come to the end of a massive, UK-wide tour as special guests with Nottingham's own Sleaford Mods."
● TRACK OF THE DAY, Get in Her Ears, May 2019 "Prominent guitar riffs and thrashing percussion behind the breathtakingly bold vocals create LIINES' stand-out post-punk vibe, setting them apart as truly individual."
● TRACK OF THE WEEK, White Light-White Heat, May 2019 "New single for the all-girl Mancunian trio with an unmistakable invigorating burst of pounding rhythms, gravelly, emotional vocals and razor-sharp guitar riffs making for an electrifying and infectious post-punk ride."
● TRACK OF THE DAY, Loud Women, May 2019 "It's a frenetic but ultimately satisfying 2 and a bit minutes of the driving dissonance that have made us weak at the knees for LIINES since they first graced a LOUD WOMEN Fest back in 2017. Sigh."
● RADIO PREMIERE, Chris Hawkins BBC Radio 6 Music show, 17 May 2019 "What a screamer of a tune"
2018
● ALBUM REVIEW: Stop-Start, MCR Live, October 2018 "LIINES from Manchester are fresh, they're made up of Zoe, Tamsin and Leila and they're climbing a massive mountain of big sound."
● LIVE REVIEW: Words and Music Festival Manchester, Even the Stars, September 2018 "There's no one else in Manchester making music like them at present…so raw, uncompromising, empowering…"
● LIVE REVIEW: Head for the Hills, Even the Stars, September 2018 "The likes of Be Here, Disappear, Find Something and the set-closing Never There feel like they belong on stages like this"
● Q&A: Head for the Hills feature, Big Issue North, August 2018 
● FEATURE: Meet the Drummer, Tom Tom Magazine, July 2018 "The band has successfully pulled off an ear-catching debut that'll leave listeners wanting more."
● NEW BAND OF THE WEEK: Louder, July 2018 "Manc three-piece LIINES pick up the torch to combine the sounds of British post-punk and Olympia riot grrrl in their infectious, riff-heavy songs."
● ALBUM REVIEW: Q Magazine, May 2018  4 stars "A very promising debut"
● 20 QUESTIONS, God is in the TV Zine, May 2018 "Manchester trio LIINES craft a powerful, visceral riot grrrl influenced sound, underpinned by urgent guitars and a muscular rhythm section."
● ALBUM REVIEW, Get in Her Ears, May 2018 "A truly impressive debut from the Manchester trio."
● ALBUM REVIEW: Stop-Start, theartdesk.com, May 2018 "They carry their influences well, transmuting them into more than they might add up to in other hands."
● ALBUM REVIEW: 9/10 Stop-Start, Louder Than War, April 2018 Review repeated from Hiapop
● ALBUM REVIEW: 9/10 Stop-Start, HiaPop, April 2018 "Don't even bother trying to catch a breath during this aural assault as it'll be snatched away from you every time."
● REVIEW: Cold, IndieLondon, April 2018 "A gutsy intensity that's difficult to ignore."
● INTERVIEW: Get in Her Ears, April 2018 "Having cemented our love of them by blowing us away with their riotous, impassioned energy at The Finsbury a couple of months back, the trio are set to release their debut album next month."
● REVIEW: Cold, Little Indie Blogs, April 2018 "A slab of punchy sub-three minutes."
● SOUND & VISION: Cold / Stop-Start, Beat Surrender, April 2018 "Tracks from the bands debut album Stop-Start."
● TRACK OF THE DAY: Cold, Even the Stars, April 2018 "One of [LIINES] standout tracks."
● REVIEW: Cold, Earthly Pleasures, April 2018 "It has an undeniable energy from the outset…We love this song."
● BBC Music Introducing Mixtape, 'Shallow', Tom Robinson, BBC 6 Music, 23 April 2018 "A great vibey track."
● RADIO PLAY: Find Something, John Kennedy's X-Posure on Radio X, February 2018
● VIDEO PREMIERE: Shallow, Team Rock, February 2018 "Watch the video for infectious new LIINES single Shallow."
● TRACK OF THE DAY: Find Something, Even the Stars, March 2018 "Already a live favourite, Find Something isn't as full on as previous releases…but the impact is the same. It allows Zoe space to slow down and express the frustration in the lyrics…in a way that she does so simply and eloquently."
● TRACK OF THE DAY: Find Something, Loud Women, March 2018 "Our favourite Manchester trio, LIINES, have a stonking a new single out today…the perfect soundtrack to solo-dance round your bedroom."
● PLAYLIST: Find Something, Pride of Manchester, March 2018
● INTERVIEW: Shell Zenner, Amazing Radio, 22 March 2018
● INTRODUCING: Getintothis, March 2018 "For many bands, radio breakthrough is the sign of real progress, and for Manchester band LIINES this is exactly the case."
● FEATURE: The Unsigned Guide, March 2018 "There's no denying things are rapidly on the up for LIINES with the past 12 months being particularly exciting for the three-piece."
● INTERVIEW: United We Stand Fanzine, March 2018 "LIINES are proving to be overlooked recently recording a Radio X session, playing sold out shows and finishing their hotly anticipated debut album."
● LIVE REVIEW: Night People, Manchester, Louder Than War, March 2018 "LIINES are a perfect band for the moment – they have a raw edge but their super tight rhythm section is a perfect engine room for dancing – a punk-funk powerhouse, a dislocated rhythm machine, a dirty disco angular trio – they are on fire and they are stunning."
● LIVE REVIEW: Night People, Manchester, Even the Stars, March 2018 "In just over half an hour they've left a clear unambiguous message that they're back to stay and mean business."
● RADIO X X-POSURE SESSION: 4 track session and live to air interview, John Kennedy's X-Posure Hot One on Radio X, 1 March 2018
● RADIO PLAY: Shallow, John Kennedy's X-Posure Hot One on Radio X, February 2018
● VIDEO PREMIERE: 'Shallow', Team Rock, February 2018 "Watch the video for infectious new LIINES single Shallow."
● TRACK OF THE DAY: 'Shallow', Get in Her Ears, February 2018 "Stripped-back beats as it builds to a high-octane climax of raging riffs and throbbing bass lines. Oozing an immense, thrashing energy and the raw, commanding vocals of Zoe McVeigh, it's another intense blast of perfect post-punk."
● REVIEW: 'Shallow', Turn up the Volume, February 2018 "New clamorous single Shallow demonstrates sharply what their ardent sonic fever is all about. Here's a piercing whack that grabs you by the throat from start to finish."
● TRACK OF THE DAY: 'Shallow', Even the Stars, February 2018 "A two minute fifteen second blast, it remains true to the LIINES ethos that has won them an ever growing gang of admirers without losing any of the blast of adrenaline that they give people the first time they hear them."
● NEWS: New single/video 'Shallow', Punk Online, February 2018
● GIG GUIDE: Silent Radio, February 2018
● NEWS: single/video 'Shallow', MUSIC & RIOTS Magazine, February 2018
● REVIEW: 'Shallow', Music Match, February 2018 "Punk rock at its most primal and essential, brimming with raw emotion and grit. The confrontational tone and simmering tension are both uneasy and enthralling."
● LIVE REVIEW: The Finsbury, London, Get in her Ears, February 2018 "LIINES headline the night with an immense, impassioned energy…pummelling beats and throbbing bass lines rage as the raw, commanding vocals of Zoe blast into the crowded venue with a dark, brooding power."
2017
● ONES TO WATCH 2018: Get in Her Ears, December 2017 "We're loving their gritty, post-punk sounds. As the pummelling beats and raw vocals of tracks 'Disappear' and 'Blackout' blast into the ears with all the brooding, impassioned energy you could ever desire, we're desperate to hear more from LIINES and wait with excitement for what they have in store for us in 2018."
● ONE TO WATCH: Louise Dodgson from The Unsigned Guide tips LIINES in The Live Guide – Manchester, December 2017 "LIINES are, in my humble opinion, one of the most impressive acts to come out of Manchester in recent years."
● LIVE REVIEW: Notts Music Network, December 2017 "They have that great post punk sound – minimal guitar solos, all riffs, loads of floor tom and a driving bass sound…it feels like a massive understatement to say that singer Zoe wears her heart on her sleeve, this feels like a genuine emotion so rarely glimpsed from bands."
● MENTION: Interview with Simon from Desperate Journalist, God is in the TV, December 2017 "What new acts did you discover this year? Calva Louise, Bad Nerves, Gaffa Tape Sandy, White Trash, LIINES & The Empty Page."
● RADIO PLAY: BBC Introducing Manchester, 2 December 2017
● LIVE REVIEW: LIINES support Nelson Can, Even the Stars, November 2017 "One of the gigs of the year."
● LIVE REVIEW: LIINES at Off The Record Festival, Bitter Sweet Symphonies, November 2017 "LIINES played an outstanding set at Gullivers and set a high standard for the rest of the evening. Championed by Louise Dodgson of The Unsigned Guide…their songs were hard hitting, energetic and to the point."
● RADIO PLAY: John Kennedy's X-Posure, Radio X, 9 October 2017 "LIINES, a band I've been dying to see for so long – I finally got to see them and they lived up to every expectation. Absolutely incredible."
● LIVE REVIEW: LIINES supporting Desperate Journalist, Even the Stars, November 2017 "They write from the heart, they perform from it and they leave you with you feeling close to it."
● INTERVIEW: LIINES at Loud Women Festival, Rebelle Playlists, November 2017 "We caught up with with Zoe, Leila and Tamsin of LIINES, following their triumphant set at Loud Women Fest to discuss festivals, their debut album and Little Mix."
● INTERVIEW / FESTIVAL PREVIEW: Louder Than War, August 2017 "LIINES are your new favourite post-punk trio from Manchester. We first tipped them back at the end of 2015 and with three storming singles released so far on Reckless Yes, plus a debut album on the stove, all eyes are on this sharply-focussed band to see what's next."
● RADIO PLAY: John Kennedy's X-Posure, Radio X, 7 August 2017
● LIVE REVIEW: Sonder Festival, Sounds Magazine, July 2017 "LIINES certainly are at the forefront of what could be a mini musical revolution."
● LIVE REVIEW: Sonder Festival, Artistic Echoes, July 2017 "LIINES struck you with a wall of their powerful post punk noise."
● LIVE REVIEW: Sonder Festival, Even the Stars, July 2017 "The power of what the three of them create contrasts with the vulnerability of some of the heart on the line lyrics that Zoe breathlessly reveals to us. LIINES are a genuinely special band."
● 10 bands giving riot grrrl a modern makeover, as chosen by deux furieuses, Team Rock, June 2017 "Intense post-punk trio from Manchester with discordant guitars and impassioned vocals. Looking forward to their Paul Tipler-produced album debut album coming soon."
● LIVE REVIEW: Camden Rocks Festival, Little Indie Blogs, June 2017 "LIINES are probably the best group in this genre on the indie scene at the moment."
● INTERVIEW / FESTIVAL PREVIEW: Camden Rocks Festival, Little Indie Blogs, May 2017 "The Manchester post-punk girls who, to quote Radio X's John Kennedy, 'channel their inner Sleater-Kinney', will no doubt be exuding their usual raw energy with a grunge infusion."
● INTERVIEW / FESTIVAL PREVIEW: Camden Rocks Festival, GIGsoup, May 2017 "CAMDEN ROCKS 'IN THEIR OWN WORDS'."
● RADIO PLAY: Unsigned Guide, Amazing Radio, 8 May 2017
"One of the finest bands in Manchester."
● LIVE REVIEW: Louder Than War, March 2017 "In these dark enclosed surroundings, only lit up by a stark blinding bank of lights at just the right moment, [LIINES 1="are" ] in their element."
● LIST: 'Let's hear it for the grrrls', Louder Than War, February 2017 "I quite expect to see LIINES filling large venues from this year onwards, so while you've chance to see them in a small venue don't miss this."
● LIST: Rising to the Top, Unsigned Guide, February 2017 "Since tipping the alternative post punk trio's debut single 'Never There' in our Spotlight blog, LIINES have revelled in a fantastic 2016."
2016
● ONES TO WATCH 2017: Louder Than War, 30 December 2016 "We've been backing this post-punk Manchester three-piece since they released debut single Never There at the end of 2015. Fresh from the release of double-A single Disappear / Be Here, produced by Paul Tipler (Idlewild, Placebo, Earl Brutus) we're looking forward to a debut long player in 2017."
● 10 BANDS TO WATCH 2017: Loud Women, 29 December 2016
● TOP 20 TRACKS OF 2016: Loud Women, 29 December 2016
● LIVE: Manchester 26/11/16, Soundblab, 18 December 2016 "With LIINES you're not going to get prog time-signatures, fancy loops or extended wig-outs. This is rock through and through, enthusiastically and professionally belted out with edginess and passion, a triumph that lingers long beyond its closing notes."
● INTERVIEW: Louder Than War, 1 December 2016 "Their live performance is frenetic, a breathless charge, a visceral and raw rage of sound that grabs you by the lapels but turns fight to party with bouncing hooks, hissing beats and bouncing bass lines. These are tracks as full of hooks as it is dark edges."
● LIVE: Manchester 26/11/16, Even the Stars, 28 November 2016 "The venue's packed by the time LIINES come to the stage and it feels like that powerful tool of word of mouth is starting to pay dividends…People are singing along the words to every song and letting go…LIINES are a band at the top of their game."
● LIVE: Manchester 26/11/16, Are We Alive?, 28 November 2016 "Every song was anthemic, a strong post-punk all female trio that shied away from nothing…Each track is short, sharp and striking, the crowd was dancing, and the energy in the room was raw…"
● REVIEW: The Von Pip Musical Express, 25 November 2016 "'Be Here' is one of our favourites from the Manchester based trio, it's edgy, snarly "post-apocalyptic pop"
● INTERVIEW: Are We Alive?, 28 November 2016 "It's been a stellar twelve months for post-punk all-female three-piece LIINES. Are We Alive? sat down with Zoe McVeigh (Guitar, vocals) and Leila O'Sullivan (drums) from the band to discuss their upcoming show at AATMA, the highs of the last year and their plans for 2017."
● REVIEW: Penny Black Music, 8 November 2016 "A searing, indomitable double a-side from Manchester's exciting post-punk trio LIINES. I can assure you that one listen will blow every cobweb out of your headspace and blast the debris, the autumnal leaves, all the stuff that clogs, cloys and clutters to kingdom come!"
● LIVE: London 29/10/16, Even the Stars, 31 October 2016 "[LIINES 1="demonstrate" ] more with every show and every new song that they reveal is that they're one of the most important bands around at the moment."
● INTERVIEW: Zoe McVeigh, Loud Women E-Zine, 28 October 2016
● REVIEW: Flick of the Finger Magazine, 25 October 2016 "I seriously doubt you will hear a superior, more intense release for the remainder of this year."
● REVIEW: The Girls Are, 21 October 2016 "Often compared to Sleater-Kinney, LIINES in fact deliver a unique take on a thoroughly British sound that, having built a solid live set over the last couple of years, the band should have no problems transforming into a powerful debut album."
● REVIEW: Are We Alive, 14 October 2016 "LIINES new double single Disappear // Be Here showcases once again why the three-piece are considered to be one of the most promising upcoming bands on the post-punk scene."
● REVIEW: Colour the Horizon, 14 October 2016 "LIINES have the perfect formula for sub 3 minute punk-ish songs, swabbed with the bass heavy aesthetic of post-punk."
● VIDEO PREMIERE: Disappear, Gigslutz, 11 October 2016 "'Disappear' races with pummeling beats and raw, gritty vocals. Oozing grunge-inspired vibes, it's a brooding, impassioned track that'll leave you hungry for more from this utterly awesome trio."
● RADIO PLAY: Be Here, Charlie Ashcroft's The Audition, Amazing Radio, 3 October 2016
● REVIEW: Disappear, Music is My Radar, September 2016 "'Disappear' produced by Paul Tipler (Idlewild, Placebo) has a all-round bolder sound, sending chills to the pit of your spine, huge booming beats and driving, pulsating riffs, crank every volume point to its limit and you will get the full Liines experience."
● SONG OF THE DAY: Disappear, The Morphettes, October 2016 "As a big Sleater-Kinney fan, and indeed a fan of the 90's Riot Grrrl scene, I clicked with LIINES as soon as I heard them."
● REVIEW: Disappear // Be Here, The Quietus, September 2016 "'Disappear / Be Here' exhibits two sides of a very direct sound. Both songs have an inescapable urge with rolling bass runs directly locking in with the vocal melody…Be Here can boast a bona fide sing-along chorus."
● REVIEW: Disappear // Be Here, Louder Than War, September 2016 "The driving bassline and crisp vocals invoking comparisons to the likes of Savages, LIINES are certainly ones to watch."
● TRACK OF THE DAY: Disappear, God is in the TV, September 2016 "What you get is a perfect slice of post-punk pop that is 2.55 long and just wonderful."
● REVIEW: Disappear // Be Here, Collapse Board, September 2016 "LIINES bring their special blend of new wave post-punk with tinges of grunge and nineties style production provided by veteran of Brit Rock Paul Tipler."
● FRESHER SOUNDS: The National Student, September 2016 "'Disappear' is a fraught slice of punk rock with echoes of Sleater-Kinney, Elastica and Fugazi in the mix. It's urgent and vital stuff."
● TRACK OF THE DAY: Be Here, Even the Stars, September 2016 "LIINES rock harder and more ferociously than anyone else."
● RADIO PREMIERE: Be Here, Radio X X-Posure, 27 September 2016
● RADIO PREMIERE: First play Disappear, Radio X X-Posure, 26 September 2016
● LIVE: Even the Stars, July 2016 "LIINES are a band on the brink of making their mark."
● LIVE PREVIEW: Getintothis, July 2016 "Fast-rising post-punk band LIINES. Two singles in and their feral, grungey racket has pricked up ears across Manchester and beyond."
● NEWS: Louder Than War, June 2016 "Two brilliant singles already from this band – good news their debut is on the way."
● LIVE: Even the Stars, June 2016 "It's gone two by the time LIINES make the stage, but to be honest they're a band worth staying up all night for. No one else is delivering music as captivatingly stark and raw anywhere in Manchester or beyond at the moment."
● FEATURE: Playing with Sound, June 2016 "'PWS Recommends' is one of my favourite features to write as it means that I can share an up and coming artist with everybody that I think highly of and listen to myself."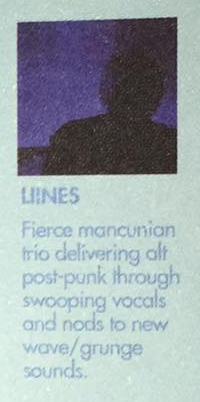 ● 10 ACTS TO CATCH: Dot to Dot Festival, Manchester, May 2016
"Fierce Mancunian trio delivering alt post-punk through swooping vocals and nods to new wave/grunge sounds."
● LIVE: Dot To Dot Festival – Manchester, Even the Stars, May 2016
"Shards of razor-sharp melody, vitriol and confession. Go and watch them now.""
● LIVE: Dot To Dot Festival – Manchester, The Morphettes, May 2016
"Took me back to the sound Sleater-Kinney had during their first three albums, especially 1997's Dig Me Out."
● ONES TO WATCH: Gigslutz, April 2016
"LIINES are one of the most refreshing sounds to emerge not just from Manchester but from anywhere."
● VIDEO PREMIERE: Blackout, Louder than War, March 2016
"Their live performance is frenetic, a breathless charge, a visceral and raw rage of sound that grabs you by the lapels but turns fight to party with bouncing hooks, hissing beats and bouncing bass lines. These are tracks as full of hooks as it is dark edges."
● LIVE: Even The Stars, March 2016
"The crowd, a mix of the already hooked and the curious, are swept along with the tidal wave that's rolling from the stage…There's something building slowly but surely with them now as people catch on just how they take three basic instruments and create something so powerful. It's impossible not to be carried along on the high that they create when the three of them start playing."
● MAGAZINE FEATURE: 'New Bands', Louder Than War Magazine, March 2016
"Pummelling Manchester post-punk pandemonium" – LIINES have a full-page 'New Bands' article in the March 2016 edition of Louder Than War Magazine with a feature written by Sarah Lay, Editor, www.louderthanwar.com.
● RADIO PLAY: BBC Introducing MIXTAPE by Tom Robinson, BBC 6 Music, March 2016
LIINES' single Blackout was included in Tom Robinson's BBC Introducing Mixtape on BBC 6 Music, which features handpicked tunes from the BBC Introducing Uploader.
● GLASTONBURY Emerging Talent Competition 2016 Longlist, March 2016
LIINES were included in the 'longlist' of 120 artists – selected by music writers – as part of Glastonbury Festival's Emerging Talent Competition. This is thanks to The Quietus' New Music Editor, Laurie Tuffrey, who included LIINES in his top three acts, saying: "Brilliant – driving and strident, it's pared down to the bare essentials: an urgent vocal melody, a propulsive rhythm, grinding guitars, a two-chord solo." Eight artists will be selected from the 120 to compete for a slot to open a stage at Glastonbury Festival 2016.

● TRACK OF THE WEEK: Louder Than War Editor, Sarah Lay: Track of the Week, The Rumble, Radio Andra, March 2016
LIINES' single Blackout was tipped as Track of the Week by Louder Than War Editor, Sarah Lay, on Peter Darringon's The Rumble, Radio Andra, saying: "Jamming riffs, hissing percussion and raw vocal that come together as a deep, dark track and low-fi aesthetic."

● TRACK OF THE DAY: Even the Stars, February 2016 LIINES' single Blackout was Even the Stars' Track of the Day: "Clocking in at under two and a half minutes, it's a fireball of energy set to a pulsating drumbeat and a spindly dancing bassline."
● RADIO PREMIERE: Blackout, John Kennedy's X-Posure, Radio X, March 2016
● INTERVIEW: Escape Velocity feature, The Quietus, February 2016 "LIINES were magnificent. The trio – singer and guitarist Zoe McVeigh, bassist Steph Angel and drummer Leila O'Sullivan – were on mighty form, blasting through 40 minutes of tight-as-you-like snarly pop coated in a holy racket of guitar noise…[single 1="Never" 2="There" 3="is" ] a compulsive mix of post-punk anger, new wave panache and a delicious pop hook."
● TOP 5 TRACKS: Scruff of the Neck, Musos' Guide, February 2016 LIINES' debut single Never There was included in Scruff of the Neck's 'Top 5 Tracks' by Dave Beech in Musos' Guide: "Manchester's LIINES are showing no sign of slowing down…Three-minutes of blistering post-punk, that much like the band themselves, offers little in the way of compromise, LIINES make a noise worth getting excited about."
● ONES TO WATCH 2016: John Kennedy's X-Posure, Radio X, January 2016

● TRACKS OF 2015: Staff Picks (John Freeman), The Quietus, December 2015
● SOUNDS OF 2016: Music is My Radar, December 2015 "With this year being another great year for music, we can now look forward to 2016 and what it will offer us. MIMR has selected 10 acts that we think are destined for big things next year and MIMR will follow them every step of the way."
● TIPS FOR 2016: The Von Pip Musical Express, December 2015 "Their music gives off a frenetic visceral post-punk energy which we're sure would make them an intriguing live prospect…they're certainly generating a buzz in their hometown of Manchester and 2016 should see them increase their fan base"
2015
● SPOTLIGHT, The Unsigned Guide, December 2015 "Immediate, striking and primal, Manchester alternative post punk trio LIINES' debut single is taking absolutely no prisoners."
● VIDEO PREMIERE: LIINES video for Never There, Louder Than War, December 2015 "We described the single as "a sub-three-minute full-throttle run off a cliff just for the exhilaration of falling" and we're no less excited about it now we've seen the video."
● SINGLE OF THE WEEK: John Kennedy's X-Posure, Radio X, 23-26 November 2015
● LIVE: LIINES, Night and Day Cafe, Even the Stars, November 2015 "Tonight is an absolute triumph, the sort of night that restores your faith that great music will find a way to its audience."
● RADIO PLAY: John Kennedy's X-Posure 'Hot One', 10th November
Our single Never There was played as John Kennedy's X-Posure 'Hot One' on Tuesday 10th November: "I think that sounds superb…I've heard some amazing live reports as well, such a fierce sounding band, really tapping into the spirit and legacy of the likes of Sleater Kinney. That's sounding fantastic."
● LIVE: LIINES, The Ruby Lounge supporting Ex Hex, Louder Than War, November 2015 "We love LIINES – the hardest band in town, waging a war with music as their weapon. Resistance is futile."
● LIVE PREVIEW: LIINES, Time Out Manchester, November 2015 "[LIINES 1="prove" ] you don't need power in numbers to create a forceful and deliciously murky grunge-infused sound and a live set that's fuzzing with energy."
● ARTIST OF THE DAY: LIINES, Louder Than War, October 2015 "Powerful post-punk that brings in touches of grunge and new wave the three-piece blend the best of the rest for a fresh sound of their own…LIINES are creating a sound full of urgency and brooding menace, a sound which feels as if it could explode at any moment, the ferocity and vitality barely containable. It is a sound that, without a doubt, you need to hear."
● LIVE: A Carefully Planned Festival #5, Soundblab, October 2015 "An all-female 3-piece inevitably are compared to the Godmothers of alt-rock Sleater Kinney and though there is the occasional lilt in Zoe McVeigh's vocal to them, there is so much versatility and strength…LIINES produce a rawkous, lighting-speed set, packed full of energy."
● FEATURE: LIINES, colourhorizon, October 2015 "It's a mix of Sonic Youth's 'Silver Rocket' and a Quentin Blake illustration of a wet, angry tomcat."
● TRACK OF THE DAY: LIINES – Never There, Even the Stars, October 2015 "We hear bits of the sadly departed Solar Race in the sound and the fearsome punk spirit of the likes of Sleater Kinney in there too, but LIINES don't sound like anyone else in Manchester or indeed the UK at the moment."
● LIVE: Scruff of the Neck Records 'New Sonic Club', Manchester, Even The Stars, September 2015 "LIINES are the fiercest, rawest band in town. With just guitar, bass and drums they create an unholy ferocious sound across the twelve songs they play…LIINES create something that it's impossible to ignore."
"The only real contemporaries you could point to for LIINES are PINS and Sleater Kinney in the way that they create something much bigger than the sum of their parts and put their male contemporaries to shame with the sheer power that they generate…There's something very special going on here."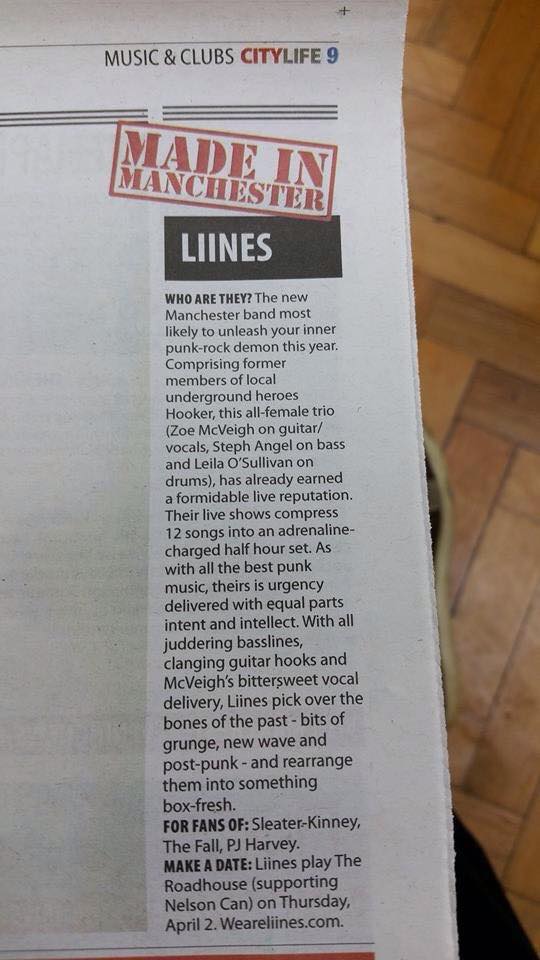 ● NEWSPAPER FEATURE: 'Made in Manchester', CityLife, Manchester Evening News, April 2015 (print) "The new Manchester band most likely to unleash your inner punk-rock demon this year…[LIINES] has already earned a formidable live reputation…As with all the best punk music, theirs is urgency delivered with equal parts intent and intellect. With all juddering basslines, clanging guitar hooks and McVeigh's bittersweet vocal delivery, LIINES pick over the bones of the past – bits of grunge, new wave and post-punk – and rearrange them into something box-fresh."
● LIVE: The Roadhouse, Manchester, Even The Stars, April 2015 "The set features the four tracks from last year's demo EP, including the killer single Cold and the vicious Liar, but there's not a weak song in the twelve they play and, if the new songs are signs of what's to come, then they're still exploring the boundaries of what they can create."
● TIPS FOR 2015: Even The Stars, January 2015
"The trio possess a thrilling rhythm section and a set full of two and a half minute balls of pent-up energy that never sound the same and a stage presence that keeps the audience captivated."
2014
● LIVE: Gullivers, Manchester, Even The Stars, December 2014 "It's a rare and extremely lucky event when you stumble across a band by accident and are immediately blown away by them… Right from the off…the two of us had exchanged knowing looks to say this was something a little special…"
● LIVE PREVIEW: ManchesterMusic.co.uk, March 2014 "LIINES take the punk ethics to a new level – growling bass lines, grunted guitar hooks ad powerful, melodic (even soulful) chants, pummel out free thinking sound waves as broadcast from '76 – all channeled through a vibrant, wall-shaking post-New-Wave attack…"