LIINES has built a strong and growing network of media and radio outlets following their progress and championing new releases.
● Music press highlights
LIINES has secured coverage ranging from 'ones to watch', live and music reviews, features and interviews in a range of well-regarded national and local music and media outlets. 
● ONES TO WATCH 2017: Louder Than War, 30 December 2016 "We've been backing this post-punk Manchester three-piece since they released debut single Never There at the end of 2015. Fresh from the release of double-A single Disappear / Be Here, produced by Paul Tipler (Idlewild, Placebo, Earl Brutus) we're looking forward to a debut long player in 2017."
● MAGAZINE FEATURE: 'New Bands', Louder Than War Magazine, March 2016"Pummelling Manchester post-punk pandemonium" – LIINES have a full-page 'New Bands' article in the March 2016 edition of Louder Than War Magazine with a feature written by Sarah Lay, Editor, www.louderthanwar.com.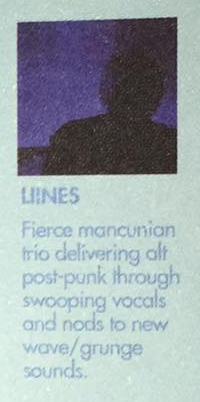 ● Gigslutz: "LIINES are one of the most refreshing sounds to emerge not just from Manchester but from anywhere."
● The Quietus included LIINES in the 'longlist' of 120 artists – selected by music writers – for the GLASTONBURY Emerging Talent Competition 2016 Longlist, March 2016: "Brilliant – driving and strident, it's pared down to the bare essentials: an urgent vocal melody, a propulsive rhythm, grinding guitars." 
● REVIEW: The Von Pip Musical Express, 25 November 2016:"'Be Here' is one of our favourites from the Manchester based trio, it's edgy, snarly "post-apocalyptic pop"
● 10 ACTS TO CATCH: Printed programme for Dot to Dot Festival, Manchester, May 2016
"Fierce Mancunian trio delivering alt post-punk through swooping vocals and nods to new wave/grunge sounds."
● The Unsigned Guide 'Spotlight': "Immediate, striking and primal, Manchester alternative post punk trio LIINES' debut single is taking absolutely no prisoners."
● Even the Stars: "[LIINES 1="demonstrate" ] more with every show and every new song that they reveal is that they're one of the most important bands around at the moment."
● Radio play highlights
LIINES has been featured on national radio a number of times, securing national and regional champions for the band and new releases.
Radio X: John Kennedy has championed LIINES since debut single Never There was released, giving LIINES their first exposure on national radio. X-Posure has also supported LIINES by:


●

 Making debut single Never There his X-Posure 'Big One' (Single of the Week), week commencing 23 November 2015.


●

 Listing LIINES as X-Posure 'Ones To Watch 2016'


●

 Gave multiple debut radio plays to follow-up singles Blackout (March 2016) and double A-side single Disappear // Be Here (October 2016).
BBC 6 Music


●

 Second single Blackout was played twice on BBC 6 Music – first on Tom Robinson's BBC Introducing MIXTAPE, then selected by Tom himself to play on his broadcast show that same week, calling Blackout "An absolute banger".
BBC Introducing Manchester


●

 LIINES first two singles were played on BBC Introducing Manchester


●

 Zoe (singer) was interviewed as part of a David Bowie special when the show spoke to bands who were big fans of Bowie.
In addition, many local and internet radio stations have championed LIINES, including Amazing Radio.
● Additional examples of press coverage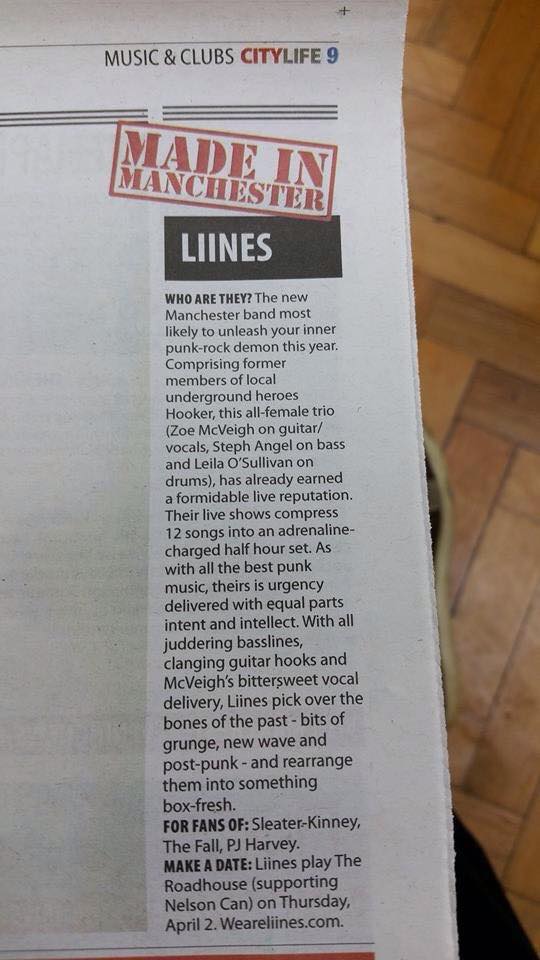 ● REVIEW: Flick of the Finger Magazine, 25 October 2016 "I seriously doubt you will hear a superior, more intense release for the remainder of this year."
● REVIEW: The Girls Are, 21 October 2016 "[LIINES] deliver a unique take on a thoroughly British sound that, having built a solid live set over the last couple of years, the band should have no problems transforming into a powerful debut album."
● VIDEO PREMIERE: Disappear, Gigslutz, 11 October 2016 "'Disappear' races with pummelling beats and raw, gritty vocals. Oozing grunge-inspired vibes, it's a brooding, impassioned track that'll leave you hungry for more from this utterly awesome trio."
● REVIEW: Disappear // Be Here, The Quietus, September 2016 "'Disappear / Be Here' exhibits two sides of a very direct sound. Both songs have an inescapable urge with rolling bass runs directly locking in with the vocal melody."
● REVIEW: Disappear // Be Here, Louder Than War, September 2016 "The driving bassline and crisp vocals invoking comparisons to the likes of Savages, LIINES are certainly ones to watch."
● TRACK OF THE DAY: Disappear, God is in the TV, September 2016 "What you get is a perfect slice of post-punk pop that is 2.55 long and just wonderful."
● REVIEW: Disappear // Be Here, Collapse Board, September 2016 "LIINES bring their special blend of new wave post-punk with tinges of grunge and nineties style production provided by veteran of Brit Rock Paul Tipler."
● FRESHER SOUNDS: The National Student, September 2016 "'Disappear' is a fraught slice of punk rock with echoes of Sleater-Kinney, Elastica and Fugazi in the mix. It's urgent and vital stuff."
● LIVE PREVIEW: Getintothis, July 2016 "Fast-rising post-punk band LIINES. Two singles in and their feral, grungey racket has pricked up ears across Manchester and beyond."
● VIDEO PREMIERE: Blackout, Louder than War, March 2016
"Their live performance is frenetic, a breathless charge, a visceral and raw rage of sound that grabs you by the lapels but turns fight to party with bouncing hooks, hissing beats and bouncing bass lines. These are tracks as full of hooks as it is dark edges."
● INTERVIEW: Escape Velocity feature, The Quietus, February 2016 "LIINES were magnificent…on mighty form, blasting through 40 minutes of tight-as-you-like snarly pop coated in a holy racket of guitar noise…[single 1="Never" 2="There" 3="is" ] a compulsive mix of post-punk anger, new wave panache and a delicious pop hook."
● TIPS FOR 2016: The Von Pip Musical Express, December 2015 "Their music gives off a frenetic visceral post-punk energy which we're sure would make them an intriguing live prospect…they're certainly generating a buzz in their hometown of Manchester and 2016 should see them increase their fan base"
● VIDEO PREMIERE: LIINES video for Never There, Louder Than War, December 2015 "We described the single as "a sub-three-minute full-throttle run off a cliff just for the exhilaration of falling" and we're no less excited about it now we've seen the video."
● LIVE: LIINES, Night and Day Cafe, Even the Stars, November 2015 "Tonight is an absolute triumph, the sort of night that restores your faith that great music will find a way to its audience."
● LIVE: LIINES, The Ruby Lounge supporting Ex Hex, Louder Than War, November 2015 "We love LIINES – the hardest band in town, waging a war with music as their weapon. Resistance is futile."
● LIVE PREVIEW: LIINES, Time Out Manchester, November 2015 "[LIINES 1="prove" ] you don't need power in numbers to create a forceful and deliciously murky grunge-infused sound and a live set that's fuzzing with energy."
● ARTIST OF THE DAY: LIINES, Louder Than War, October 2015 "Powerful post-punk that brings in touches of grunge and new wave…a sound that, without a doubt, you need to hear."
● NEWSPAPER FEATURE: 'Made in Manchester', CityLife, Manchester Evening News, April 2015 (print) "The new Manchester band most likely to unleash your inner punk-rock demon this year…[LIINES] has already earned a formidable live reputation…As with all the best punk music, theirs is urgency delivered with equal parts intent and intellect. With all juddering basslines, clanging guitar hooks and McVeigh's bittersweet vocal delivery, LIINES pick over the bones of the past – bits of grunge, new wave and post-punk – and rearrange them into something box-fresh."
● LIVE: Gullivers, Manchester, Even The Stars, December 2014 "It's a rare and extremely lucky event when you stumble across a band by accident and are immediately blown away by them… Right from the off…the two of us had exchanged knowing looks to say this was something a little special…"